I hope I don't confuse anyone here with this title Tyre Banks because it seems like Tyra Banks in glimpse but it wasn't. This is not a story about Tyra Banks (former modeling) but it is about a place where all the tyres are placed. A friend who just got her tyre punctured gives me idea to write this post.
It begins when my tyre got punctured and it was 7.15 in the afternoon. It is already dark and I don't know where exactly I am.. like it was in the middle of no where. From afar I can see a tiny dot of light that belong to villager house. I realize am away from it and even away 7 km from my house (estimate ok!). So, I just pull all the tools I need and it!.. 40 minutes later, my red car is ready to hit the road! I'm so grateful that my day was fine and that 'puncture' things didn't gives me fatal accident… therefore guys, drive safe and please make sure that you car is in good condition before bring them to broooommmmmmm!
Look at its wound!.. so bad!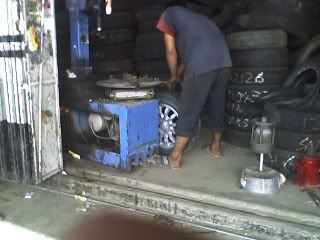 There you go baby.. new pampers ok.. hehe