Date: 1 June 2008
Venue : Kg. Rosok, Kota Belud.
I have three classmate from Kota Belud while we are in college. They are Martha, Rukinah and Azari. Rukinah got married first, then Martha and Azari. He is one of my best friends. We usually sit together in the same table at the time of lecture and stick in one group if there is any group works. Sometimes we have misunderstanding, debate and sometimes when situation goes harder, we hurt each other feeling. But at last, we manage to control our emo and steadily reconnect the good relationship.
I was in Kota Marudu when he announced his wedding. I was proudly invited and here we are again with the same team. Congratulation to you my friend and thanks for the invitation.
This is the the present that I gave him... not expensive but ok la..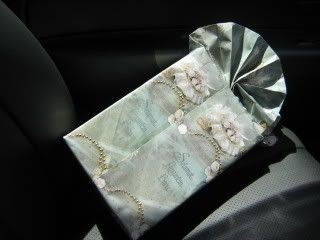 From the your left is Oboyz, Trisha, Lan neng, Leo, Azari (the bridgegroom) and Jels.
Complimentary present from Azari and spouse.. thanks dude.. its in my car :)