Date : 12 – 16 May 2008
Venue: Beringgis Beach Resort, Papar.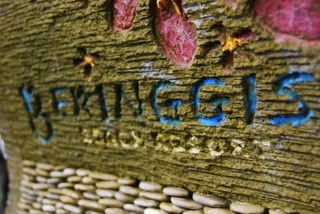 This is my 4th visit in this district- Papar. First was at Borneo Paradise, Kinarut Papar for a camping. Second was at Membakut Eco Lake Training Center and the third visit was at Papar Firefighter Quarters to my friends' sister.
Beringgis Beach Resort is serenely situated on a stretch of soft sandy beach that faces the wide expanses of the South China Sea. It has few of blocks of rooms (Mawar Superior, Mawar Deluxe, Dinawan Deluxe guestroom, Mawar Duplex and Chalet), WiFi ready in the lobby, Cabana Café for to enjoy cocktail, karaoke and sunsets. It also has main café known as Hornbill Café at the left wings of the lobby, it has at least 2 halls (for bouquet, ceremony, seminar, course), an multi use field especially as a volleyball court, a pool and the most precious is the beach itself!
For the whole time I've been there, I never have enough time to explore all these. Not because I don't have sufficient time to spent but because of laziness and weather condition fabricated as one BIG problem. Hehe… at last, I manage to take my revenge back! On 11.30 p.m. in my last day (16 May), my uncle who comes along all the way from KK took me for a drink. I have no idea where we were that night but I'm sure it was after 2 a.m when I was in my room. Drunk!
I also have this sweet memory when I spread the 'jadikah?' disease. It is a simple statement from 'Jadikah, perlukah saya jelaskan?' (so, should I explain?). I make use it as a simple sentence to kill any futher questions (when I think it is not relevant or appropriate). This sentence is so contagious that made my friends laughing. Sometimes they use it to make fun with me too.. (I am so done! Kotoh!) hehe..
These are the picture. Enjoy!
The course participant..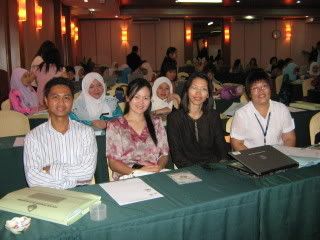 Pieces of Teachers' Day cake... I didn't taste any of it. Sold out!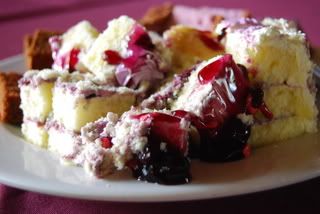 More info, please visit
here
.