For the past three years I owned a car, I never seen this situation before.. a Shell kiosk and Petronas kiosk center in my hometown were this crowd! (picture taken on June 4th, 2008).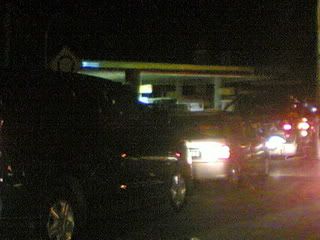 These gas kiosks were crowd with cars since 4.00 p.m because of the pricing adjustment made by the Malaysian Goverment. The new price of petrol is RM2.70 per litre and diesel for RM 2.58 per litre. I have to queue up for almost an hour. Look, these cars still got a long way to get loaded!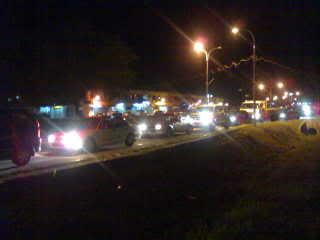 Since we are facing the energy source issue, I think a precaution has to be taken to ensure economic way of using these nature based source. Please read my crazy tips to save your fuel.
1. In fact that the lighter your vehicle, the less fuel it uses. Therefore, decrease your cars' weight by remove all the accessories including your car's lips, additional bumper and skirts. For your betterment, change all the iron made of your car to plastic if possible. Please remember that, you should decrease you body weight also to ensure the car can carry you and your family easily.
2. Reduce your gas usage by turn your car off when go downhill and in the traffic light. This tip is as seen as on TV (Maxis advetistment).
3. You also can share cars with your friends or colleagues. Remember that sharing is caring. But this is sometimes uncomfortable to do so. First, if your friend late, then you'll be late too. Second, you don't want to share your BMW or you don't want to sit on Kancil. Third, still, you still have to chip in your pocket money to your friend. You can also go anywhere by turning off your engine off but cars in motion. How? Tie your car with other moving vehicle that is same direction to your destination. You are still in your car, right? And it is moving!
4. Change your engine. High performance engine consumes more fuel, smaller engine need less fuel to function. I don't expect you to switch your Toyota Passo engine to BMW's or Toyota SUV with Honda City's engine. They're all using fuel. Try water as your fuel. Remember locomotive? It uses stim!
5. Still not satisfy? Why don't you use bicycle? Gas-less, economic, easy to use, affordable maintenance. If still not satisfy, just walk ok!
I hope you're enjoy for this short commentary from me. Thank you for! Heheh..