This year has been wonderful to me. Instead of having fun in Miri, Sarawak and Labuan, now I have the chance to stay at Membakut Lake Eco Training Centre. We were told that the name of the place should be Membakut River Eco Resort Centre (in the invitation letter). It confusing at first but I have no time to think about it better than my preparation. How to get there? What should I bring? Condom? Whatever..
A capacity of four passengers in a Silver Toyota Hilux which is now only three with one seat is taken by our luggage travelling from our home town to Papar. Its been a long and rainy journey to get us here. Now, we have a reason to believe that it is Membakut Lake Eco Training Centre. The sign board! Back to our first question in head which is correct either Membakut River bla bla or Membakut Lake bla bla.. The answer seems easy when diagnosed from its geography. Before the training centre, there is a river. If we heading further passing the training centre, there will be a lake. So both name is make sense now. But when come to pick between resort and training centre?? The usage of 'training centre' is most suitable answer just like they care (too!).
Membakut Lake Eco Training Centre is situated about 12 KM from Pekan Membakut and 5KM away from the main road. It covers about 3 – 5 acre flat land in the middle of oil palm estate. Its building was 95% stranded by wood. The floor was risen almost a meter from ground level to avoid sink when there is flood. Everything I said is based on my wild estimation because I don't have any source but my memory. There is no brochure or any articles regarding it even in their
district's website
.
Staying there about 4 days and 3 nights was most likely living in the sardine can. The air conditioner in our room and in the course room was unable to supply the right temperature. The river level also risen to flood and put the place in siege. The rainy days made the place wet and muddy. So, when come to this question; what are you doing there? What happened? Hmm..it is a training center. As we come out from there, we become trainer lah!..haha..Actually, I happened to be a presenter in my group and accidentally, I become one of the four top presenters from other group. The following night, I won the 4th place in chess competition and it is unplanned too. Wauuuuu!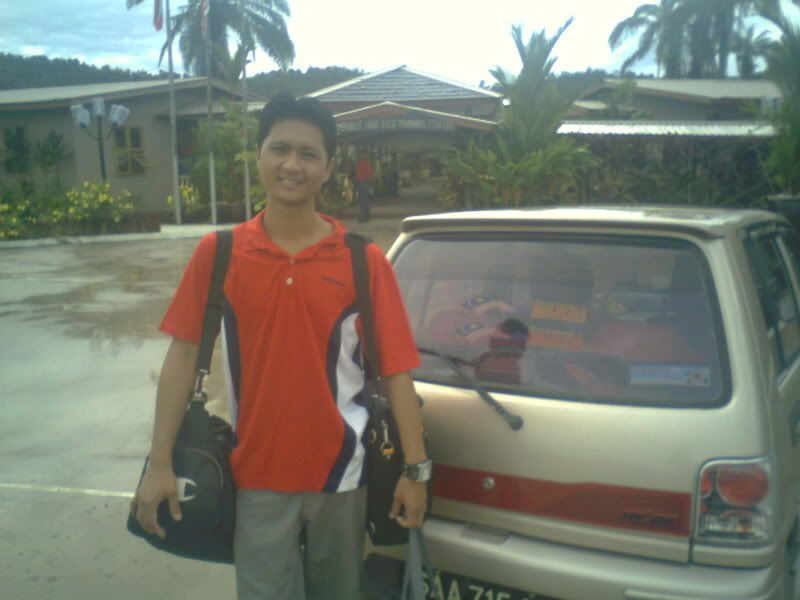 This picture is taken in front of the Membakut Lake Eco Training Center while our Hilux was still trapped in the mud… and this Kancil?? It is an accessories for this picture!